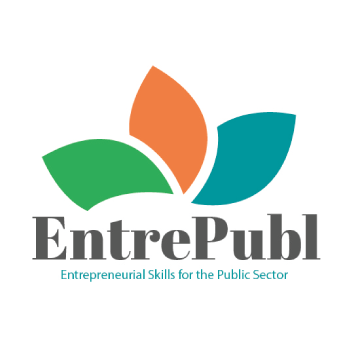 ICEP is a partner of the Erasmus+ project "ENTREpreneurial skills in the PUBLic sector: a digital approach" (2022-1-BE02-KA220-VET-000089555). The project has a duration of 32 months, starting in September 2022 and ending in April 2025.
Together with the project coordinator
BANTANI EDUCATION
(Belgium) and partners
Academy of Entrepreneurship
(Greece),
C.O. Gruppo SRL SB
(Italy), T-HAP LTD (Cyprus),
SERVICE PUBLIC DE WALLONIE
(Belgium),
GOVHACK
(Greece),
Galati Municipality
(Romania) ICEP is pursuing the goal of providing training solutions to instil digital literacy and an entrepreneurial mindset to public employees at local/regional level.
To prepare VET trainers and innovate VET educational product, the ENTREPUBL project aims to:
1. support VET institutions capacity with upskilling opportunities for their staff at EU level by creating an innovative digital education package.
2. support the adoption of effective and new digital practices in Public Administration, providing recommendation guidelines.
3. guide VET trainers on how to apply fundamental aspects of entrepreneurial thinking across disciplines using a digital approach and as a means of personal & professional empowerment.
4. strengthen and diversify the use of flexible online training learning solutions by VET trainers and institutions, including accreditation of trainers' competencies.
5. provide an innovative VET educational product to VET providers and trainers working with public institutions.
6. strengthen the ability of public servants to bring positive change and deliver modern services by creating a tailor-made vocational training program, leading to improved public services provision
The ENTREPUBL project direct target groups are:
VET Trainers of public sector employees VET Providers working with public institutions
The ENTREPUBL project end beneficiaries' groups are: Public sector employees at local/regional level Policy makers on political and administrative level
Contacts
Visit our Facebook Page