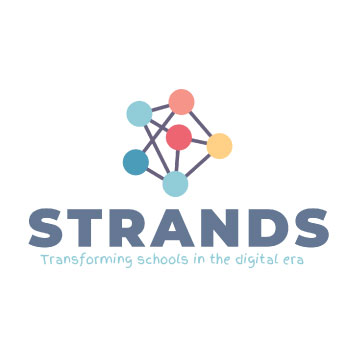 Icep is a partner of the Erasmus+ project "Schools in Transformation with Readiness, Adaptations and Nurturing Digital Skills" (STRANDS 2021-1-IT02-KA220-SCH-000032589). The project has a duration of 24 months, starting in December 2021 and ending in December 2023.
Together with the project coordinator
Promimpresa
(Italy) and partners
A & A Emphasys Interactive Solutions Ltd
(Cyprus),
EDUPUNTOZERO SRL
(Italy),
Redial Partnership CLG
(Ireland), Icep is pursuing the goal to ease the transition into blended learning and distance learning of educators and learners, by supporting them in embracing digital methodologies into learning practices, while building emotional bonds between educators and learners, and among learners.
STRANDS aims to support the challenging transition of education from physical spaces to virtual classes of teachers, students and families. Peer learning among teachers, inclusive methodologies, students' engagement through non-formal education, increased awareness of risks related to the online presence of students and families are all core elements of the STRANDS project. For the duration of the project, partners will employ non-formal education methods, both in local and international activities, and will ensure an effective learning process through a cooperative and clear communication and regular evaluation of the activities.
Specific project objectives are:
– To enhance methodological and pedagogical capacities in teachers and educators, in order to enable them to use digital technologies and to increase their digital mindset.
– To support learners in the transition into distance learning and in the integration of digital means into their lives.
– To engage families and communities into learning practices, in order to increase digital awareness while tackling isolation.
The main target groups are:
– School teachers and educators
– Students and learners
– Families and communities
– Schools, educational institutions, other relevant stakeholders and general public
The project sets out to produce the following Intellectual Outputs:
– STRANDS will provide innovative Open Educational Resources for teachers, students and their families, to ease the transition of educators and learners into blended learning and distance learning.
– Teachers will be more motivated to work in school using digital tools, thanks to the improved understanding of non-formal education principles and its benefits. By cooperating with peers and through the different training activities, teachers will increase their interest and competences in digital learning methodologies.
– Teachers and school staff will become more aware of the European frameworks on digital competences of educators.
– Students, notably those with fewer opportunities, will benefit from the enhanced accessibility and improved quality of online learning materials.
Contacts:
https://projectstrands.eu/
https://strands-community.eu/